Little Acorn Furniture courses have been postponed until after the February half term in line with the current lockdown restrictions. Beyond this, we are hoping to run the scheduled courses as planned assuming that the government restrictions are relaxed sufficiently.
During this time your safety is of absolute paramount importance to us. Courses will only run if everyone feels safe and confident in the workshop setting. It is also essential that you are able to get the most out of the experience and thoroughly enjoy your time with Little Acorn Furniture. 
If you have any questions about attending a course over the coming months please do not hesitate to get in touch.
I appreciate that travel and accommodation can still be problematic and that everyone has their own unique situation in terms of vulnerability and risk. If you would like to secure your place on a course either for your self or as gift, there is no need to worry about coming along until you feel absolutely ready. All courses and vouchers are valid indefinitely and you can book your course at any time. It is entirely possible to book a course now for next spring or summer, as we all need something to look forward too at the moment.
Our teaching space is a very airy and open environment completely open on two sides to the outdoors with large windows and open cladding to the other sides. There is plenty of outside space for us to use with stunning views of the Teign Vally and the spectacular Fingle Wood.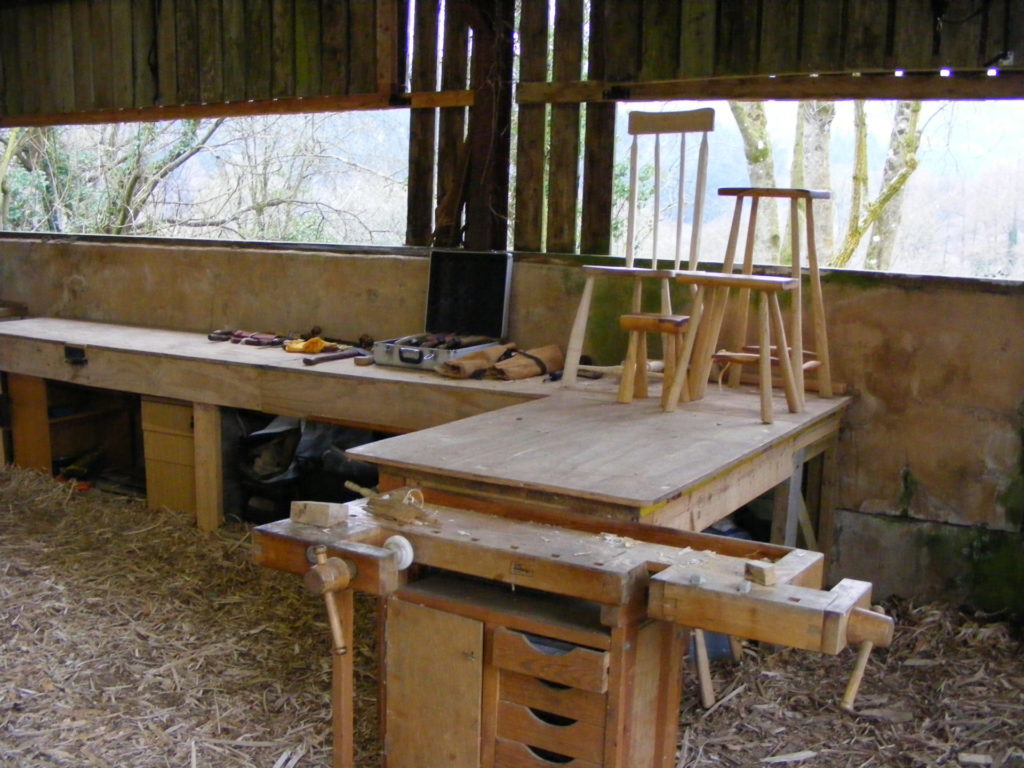 Safety measures will be in place in line with current guidance and these include social distancing, equipment will be spaced at 2-meter intervals and where required we will be using the ample outdoor space around the workshop. All of the equipment is easy to move and rearrange so family groups will be able to work comfortably in closer proximity, with individuals able to make the most of the space available.
A one-way system of navigating the workshop will also be implemented to maintain social distancing as people move around the workshop.
The workshop has two modern toilets with hot water and an additional sink for drinking water.
As well as bringing your own lunch, it is now suggested that you bring your own drinks including a flask for hot drinks as we will sadly not be able to supply the usual continuous flow of tea and coffee. When it is necessary to gather as a group we will make use of the open areas outside the workshop, this will include introductions, lunch and briefings throughout the day. For this reason, we may have to postpone or delay courses if the weather is bad enough to prevent this.
Rather than a single cleaning station for all to use you will be issued with your own personal supply of hand sanitizer, antibacterial wipes, face mask and gloves to use throughout the day. These will be clearly labelled and will prevent queueing to use a cleaning station. You will also get your own supply of basic measuring equipment for your personal use throughout the course and self-adhesive labels to ensure there are no mixups (and so we can find out exactly who it is that loses all the tape measures)!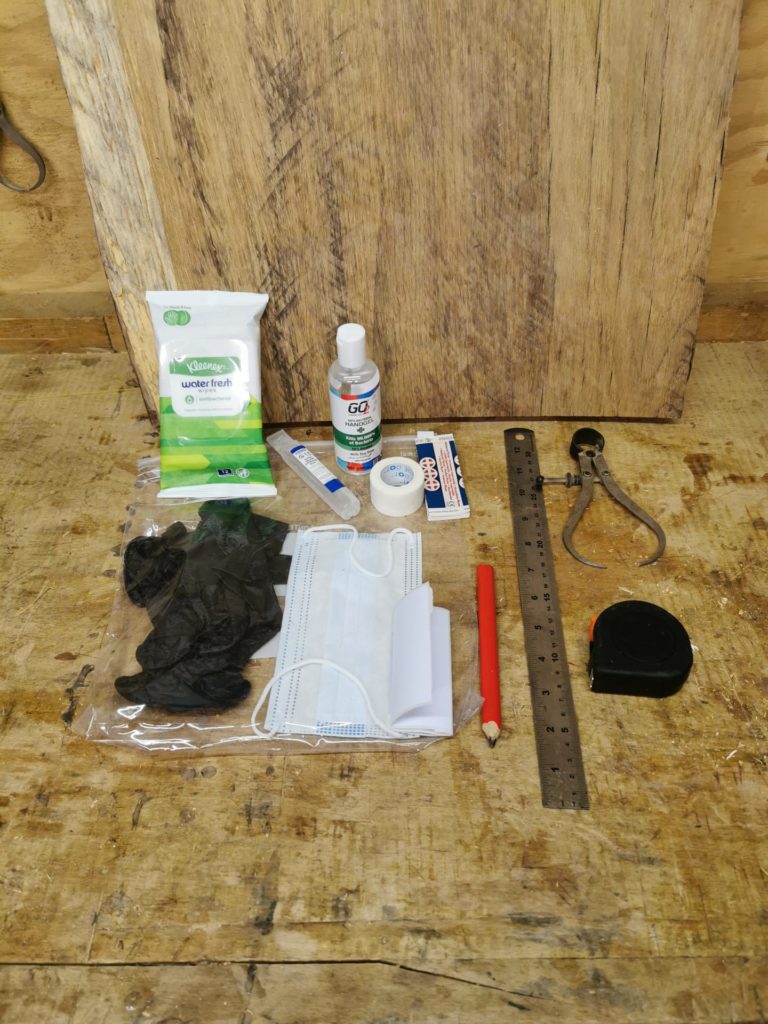 All tools, equipment and surfaces will be sterilised before, during and after each course.
Depending on your course, you will also be provided with a personal supply of basic equipment for your exclusive use throughout the course. This will include, pencil and notebook, tape measure, ruler callipers and gauges.
There will be sufficient hand tools for everyone to use one each with no need to share, but I would still recommend that you try a few as they are all very different, these will be thoroughly cleaned and sterilized after each person has used them and you are welcome to stick to the same tool all day if you prefer.
It is likely that during the course I will need to be closer to you than guidelines suggest in order to provide suitable instruction and demonstration of the finer techniques. In these brief moments face masks will be worn by both parties and the degree to which this happens will be entirely in your control.
These measures will be monitored and updated as the guidance is altered. We are confident that you will be able to have a safe, enjoyable and rewarding experience with us and hope to see you soon!