"Times they are a changing! and we are moving"
After several fantastic years of delivering courses and making creations in Devon we are moving.
Little Acorn Furniture is taking a break from the rolling fields and wooded hills of Mid Devon . We will be re-emerging in a year or so in a very different setting, the island of Orkney is to become our new home.
We fully intend to honour all existing bookings but are unable to take new orders for courses or equipment. You can as ever get in touch to talk about all things Green Wood and conservation and feel free to ask how I intend to cope with the treeless landscape of the islands.
One day course ASK A QUESTION
* Courses can also be arranged on dates to suit your needs, fill in the booking form with your preferred dates and Alasdair will be in touch to confirm availability.
All tools and materials are provided.
"The best way to learn is to do!" I will be on hand to guide and advise you but this course is about you and your experience. Have a go, discover the joy of working with wood the natural way and find out just what you are capable of. Pole leathing allows you to turn a piece of wood into any round object (rolling pins, dibbers, rounders bats etc) so have a go and see what you can make!
Develop new skills or increase your experience and confidence in Little Acorn's dedicated Green Wood Workshop, fully equipped and situated on the edge of stunning Fingle Wood in Dartmoor National Park.

Alasdair will take you through the basic principles of Green Woodworking and provide the knowledge, tools and materials needed to get you using a pole lathe. Turn as many items as you like using a variety of local hard woods and unlock the full potential of this ancient craft.
No experience is needed and families are welcome so come along and learn some new skills whilst having a great time!
In detail
A perfect start on the journey into traditional woodland crafts. Whether you have no practical wood working experience or work with trees or wood in any way this course will offer a glimpse into the origins of woodworking, ancient techniques still relevant today. We will go through all the principal processes of cleaving, side axing and shaving before turning a variety of items on a traditional pole lathe for you to take with you . Working with greenwood will deepen your connection with the woodland itself and allow you to understand how this amazing material behaves, grows and can be used to stunning effect. Be prepared never to look at a tree in the same way again.
We will take a brief look at woodland management and discuss the importance and condition of our ancient woodland. How they have been used and how they are used. The techniques of working with green wood and the required methods will be explored and demonstrated. Then it is over to you. By the end of the course you will be able to recognise suitable timber, have an understanding of how to cleave and shape the wood using traditional tools and operate a pole lathe. I also hope you will have a deeper appreciation for our native trees and woodland and just how valuable a resource they are and have been in the past. All participants will leave Alasdair's work shop with the knowledge required to continue developing their knowledge and green woodworking skills and will hopefully be embarking on a new and rewarding pastime. Alasdair is available through social media and his web site to offer continuing support and advice to all customers.
On the day
Unlimited tea, coffee and biscuits are provided. Please bring your own pack lunch as well, there is always plenty of time to stop to eat and chat! If you have your own tools and would like to bring them please do so although I will need to check that they are suitable. Please wear appropriate clothing, sturdy shoes are essential absolutely no sandals or flip flops please. The covered work shop offers a good degree of shelter but please wrap up if the weather warrants it. The course can be quite physical so be prepared to warm up whilst working and wrap up whilst chatting. Hand washing and toilet facilities are available on site courtesy of Clifford Barton Holiday cottages.
About the workshop
Little Acorn Furnitures Green Wood work shop has been developed in the Old Sheep Barn at Clifford Barton, which is located on the edge of the Dartmoor National Park. The Farm now hosts family holiday cottages and courses, as well as providing a home for rescued dwarf ponies.
Surrounded by beautiful Devon coutryside and the breathtaking Fingle Wood, the workshop provides a covered area where the courses can take place.  However, there is also a large outside area overlooking the Valley where we hope to enjoy the fantastic Devon sunshine!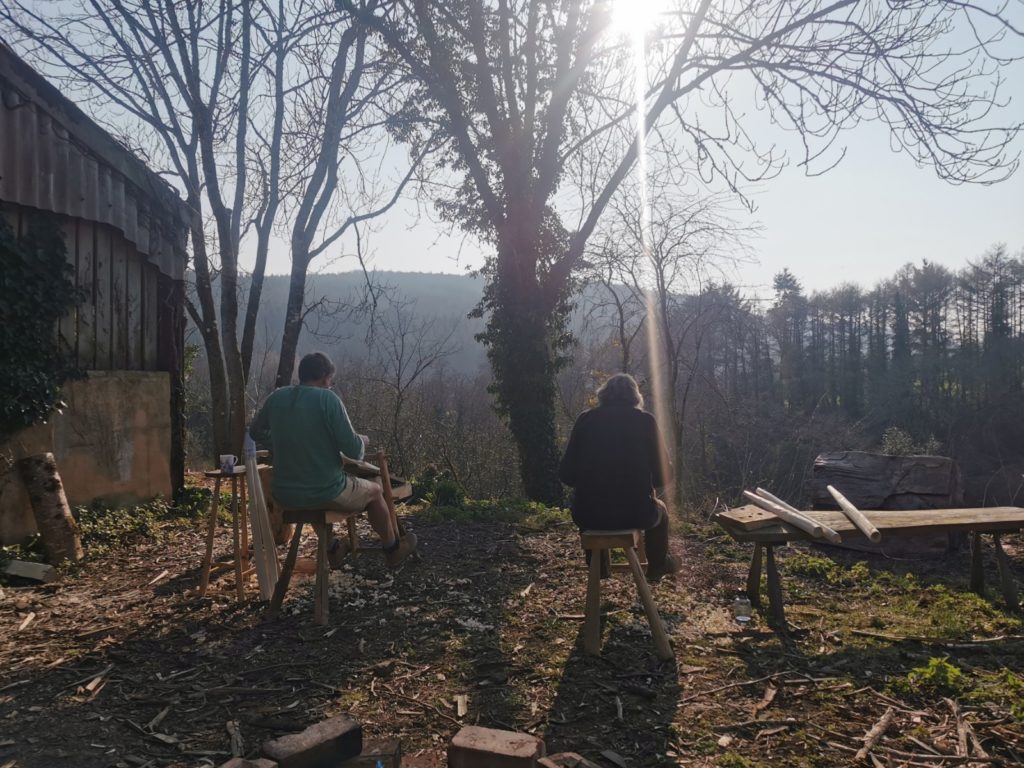 How to book
You can pay online or make an enquiry via our booking form or, alternatively, simply contact me directly.
Children under 16 accompanied by an adult are half price.
Gift vouchers are available to purchase online.
Group Bookings
A discount of 10% is applied to group bookings of four or more.
There are many advantages to making a group booking. By prior arrangement, the workshop will be yours exclusively for the duration of the course. Your time will also be your own to use as you wish, you can simply follow an existing course outline or work together on a larger project such as a table or chair.
This is a great way to experience the craft of green wood furniture making and working as a group a great deal can be accomplished in a short space of time.
Progress your skills with Little Acorn Furniture
Although all of our courses stand alone and there is no requirement to complete anyone before progressing to the next, it is possible to build your skills and experience by progressing through the various courses in order.
Starting with the one-day introduction which outlines the basic skills and principles you can progress to the two-day stool course, this will give a taste of the methods and techniques used to 'join' components together into a piece of furniture. The three and four-day course then provides an opportunity to be more creative and ambitious, building on all of your experience gained in the previous courses. Finally, the chair making course offers the chance to combine all of your knowledge and experience in one grand project.
On each new course you will be introduced to new tools and techniques that allow you to build skills and confidence and most importantly to us develop your own unique style and methods.
Booking a course as a gift
Why not include one of our Little Acorn Gift Boxes? See all gift boxes →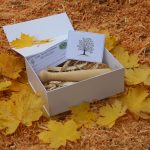 Little Acorn Gift boxes include a hand turned gift of your choice, an "about bodgers" card, left blank for your own message and an optional voucher for one of our green woodworking courses.
All presented in a beautiful gift box decorated with our tree logo.
Is this course available on other dates?
If these dates don't suit you or you would like to book both courses consecutively why not contact Alasdair directly to arrange a time that suits you. However big or small your group we will be able to provide a course that suits your needs.
Please place your enquiry as soon as possible to ensure we can arrange dates that suit you.
Directions
By train
Exeter is the nearest mainline station. A taxi from the Station to Clifford Barton will cost approximately £20.
By car
From the North or East (or South on A30): take the M5 past Exeter which then turns into the A30. Continue along the A30 for approximately 10 miles and exit at the Woodleigh Junction, signposted Cheriton Bishop. Having entered Cheriton Bishop turn left immediately before the Old Thatch Pub – signposted Clifford Bridge. Continue along this road for 1.8 miles before turning right at the crossroads – signposted Clifford Bridge. After 0.8 miles turn right into Clifford Barton.
From the South on the A38: Take the Bovey Tracey turnoff onto the A382. Head towards Bovey Tracey and then stay on the A382 until you reach Moretonhampstead. In the centre of Moretonhampstead go straight across at the crossroads, then take the next right (Fore Street) and immediately left down Lime Street (opposite the library). Continue along this road, up and over Mardon Down ignoring any side roads and eventually come down to cross the River Teign at Clifford Cross. Shortly after the bridge there is a crossroads, go straight over signposted Cheriton Bishop. We are first on the left, signposted Clifford Barton.
Once at Clifford Barton, follow the drive with trees on your left. Once you reach the buildings go past the old Oak tree into the yard and park in the bays next to the timber clad barn, you will see Little Acorn Furniture at the end of the old cattle shed.
What three words
What three words location for the drive entrance ///slurping.counters.spicy
What three words location for the workshop ///darkest.surprises.boot
If you are unsure about finding us please call prior to your course as mobile reception at the work shop is limited.
Map
Little Acorn Workshops
Clifford Barton
Drewsteignton
Devon
EX6 6QB
We advise you not to use sat nav for the last 5 mins because it is likely to take you on a very scenic, but long and windy route.
Other courses
Save
Save
Save
Save
Save
Save
Save
What our customers say…