"Times they are a changing! and we are moving"
After several fantastic years of delivering courses and making creations in Devon we are moving.
Little Acorn Furniture is taking a break from the rolling fields and wooded hills of Mid Devon . We will be re-emerging in a year or so in a very different setting, the island of Orkney is to become our new home.
We fully intend to honour all existing bookings but are unable to take new orders for courses or equipment. You can as ever get in touch to talk about all things Green Wood and conservation and feel free to ask how I intend to cope with the treeless landscape of the islands.
Little Acorn Furniture offers courses in Green Woodworking and rustic furniture making ranging from one to five days in duration. No experience is needed and families are welcome so come along and learn some new skills whilst having a great time.
Try something new suitable for all the family. You can experience traditional woodworking using methods and tools unchanged since the medieval period. Make your own furniture from local wood and experience life as a woodland craftsman with little acorn furniture near Clifford Bridge on the edge of Fingle wood.
If you wish to purchase a course as a gift we are able to provide printable gift vouchers up until the 22nd of December. Gift cards and vouchers can be ordered for postage up until the 19th of December. If you would like to visit our shop page and purchase a gift box to accompany your course these must be ordered before the 15th of December to arrive before Christmas. Please be sure to include the correct postal address for the gift with your order.
Merry Christmas from Little Acorn Furniture,
Course dates
2023 dates for spring and summer are shown below, please feel free to contact us directly to discuss courses next year. Dates for the autumn will soon be available. COVID has subtly changed the way we operate and it is now more than ever about your experience, enjoyment and safety.
Bookings can still be made by selecting to arrange your course at a later date.
MANY THANKS TO ALL OUR CUSTOMERS OLD AND NEW
Alasdair
For full details of each course including prices and to make your booking please go to the specific course page from the courses menu.
Courses are organized throughout the year and can be arranged to suit you if booking for a group of three or more.
Family "Greenwood" day and "One to one" tuition.
These days can be arranged exclusively to suit you and your family. Please contact us to arrange your course date!
Table Making Course, and Group bookings
Book exclusively on dates that suit you, contact us directly to arrange your course.
2023 DATES NEW
One Day Course Dates, Introduction to Pole Lathing, Handle making, Introduction to Hurdle gates.
March 9th Fully booked
April 15th Fully booked
May 20th Fully booked
July 24th 4 places remaining
Two Day Course Dates, Simply Stools, Make your own Shaving Horse, Hurdle gate making.
March 9th – 10th Fully booked
April 15th – 16th Fully booked
May 20th – 21st Fully booked
July 24th – 25th 3 places remaining
Three Day Course Dates, Tree to Table.
March 23rd – 25th Fully booked
April 15th – 17th Fully booked
July 24th – 26th 3 places remaining
Chair Making Course.
March 23rd – 26th Fully booked
July 24th – 27th 3 places remaining
About the workshop
Little Acorn Furnitures Green Wood work shop has been developed in the Old Sheep Barn at Clifford Barton, which is located on the edge of the Dartmoor National Park. The Farm now hosts family holiday cottages and courses, as well as providing a home for rescued dwarf ponies.
Surrounded by beautiful Devon coutryside and the breathtaking Fingle Wood, the workshop provides a covered area where the courses can take place.  However, there is also a large outside area overlooking the Valley where we hope to enjoy the fantastic Devon sunshine!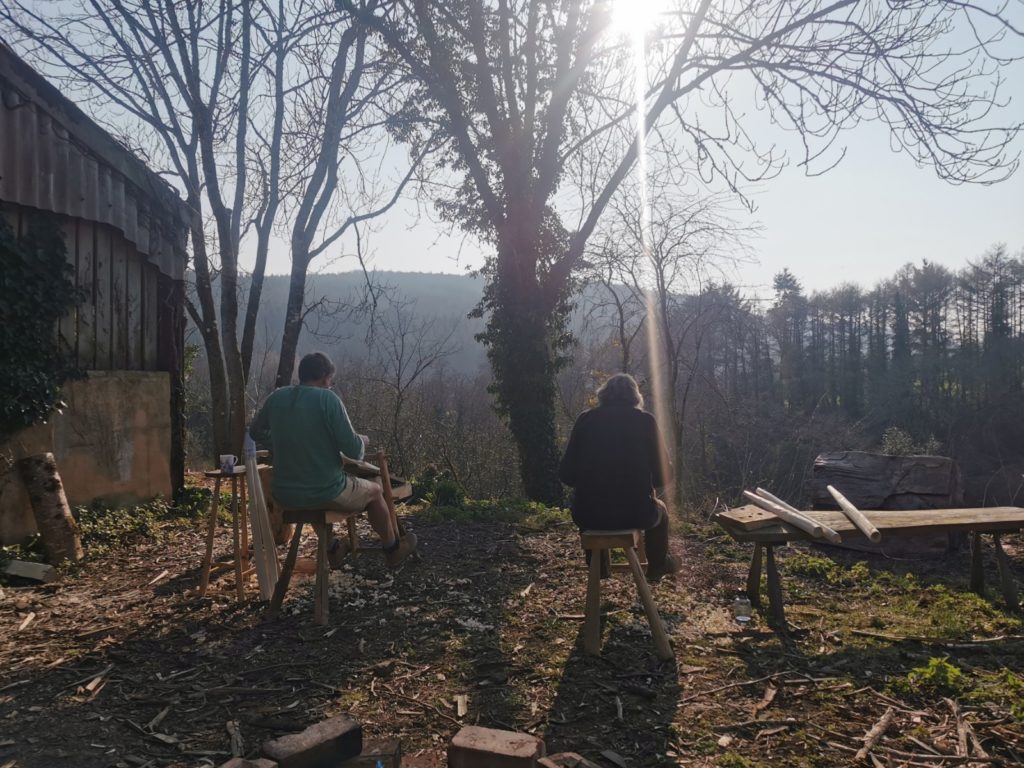 What our customers say…