Most of my time in the last few weeks has been dedicated to getting the workshop ready for courses later this summer. There is still a lot to do but Jack and I have finally finished the work bench. Made from recycled fire doors, old pallets and reclaimed wood the bench will provide a secure surface and clamping point for assembling and finishing furniture.  By the end of this month the workshop will be operational with six pole lathes, chopping blocks and shaving horses as well as the means to make lots of cups of tea. Later in the year I plan to install a wood burner with a drying box for turned legs etc and a pizza oven (might as well put all those shavings to good use).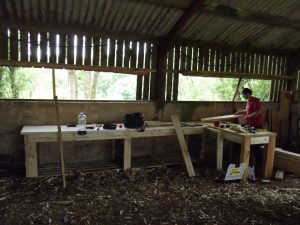 The first thing that we did was to make the long windows. The openings allow much more light into the workshop but just as importantly they offer fantastic views of the wooded valley from which the majority of my timber is currently sourced.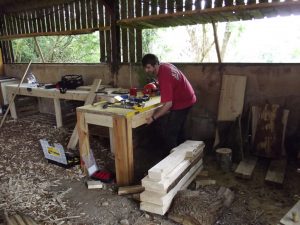 The finished work bench is made up from three old fire doors supported on a pallet frame and covered with reclaimed plywood.